Join the Braindate Experience at ECTRIMS 2022
This year at ECTRIMS 2022, we want to make it easy for attendees seeking expertise on key MS topics to connect with the right people, at the right place, at the right time.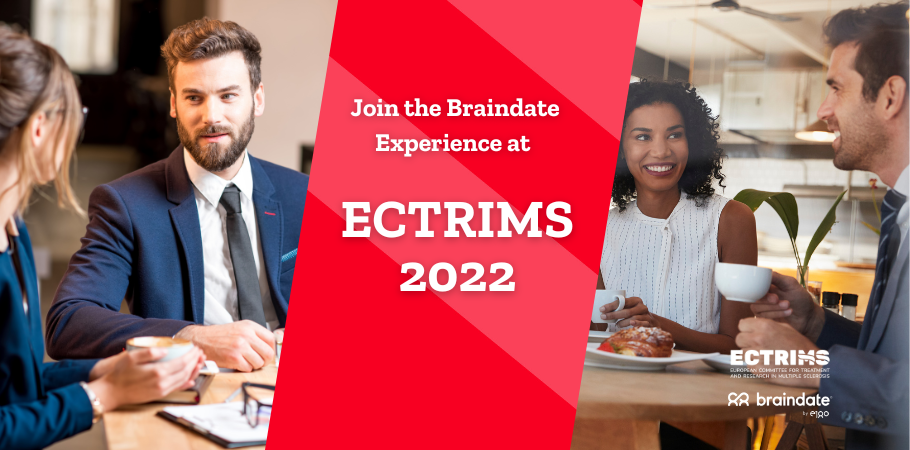 Book an ECTRIMS Braindate
This year, use Braindates to maximise your networking experience. Braindates are knowledge-sharing conversations that you can book onsite or online as one-on-one meetings or small groups. They're the best way to brainstorm and share expertise and experiences, while connecting with new people at ECTRIMS 2022.
Here's how to get started:
Login to Braindate to create your profile.
Explore the Topic Market: participants (and you!) post Braindate topics here, related to discussions you'd like to have with others during the event. You can invite anyone to meet based on your topic.
Create Topics: post Braindate topics about discussions you'd like to have. This is your opportunity to share your knowledge, experiences, and expertise.
Book your Braindates: send invitations to meet others to discuss their topics, and accept the invitations you receive. Once confirmed, your Braindates will take place on-site in the NeuroNetwork Lounge, or online in the virtual Braindate platform.
We're here to help. Visit the Braindate Concierge
Would you like advice on how to create a compelling Braindate topic? Are you having trouble finding topics relevant to you? Do you have questions about how to use the Braindate platform?
Onsite in Amsterdam, concierges will be available to help you make the most out of your experience. Don't hesitate to connect with one of them at the Braindate Concierge in the ECTRIMS NeuroNetwork. They will be available at the following times:
Wednesday, 26 October 09:00–18:00
Thursday, 27 October 09:00–18:00
Friday, 28 October 09:00–15:30
We also have virtual Braindate concierges (real humans – no bots here!) to assist you via the Concierge chat.
How to host a meaningful Braindate?
Braindates are not presentations, they are conversations that stem from a shared interest.
Whether it's a one-on-one or group Braindate, keep the following five tips in mind to lead a meaningful Braindate for everyone involved:
Make sure everyone introduces themselves and contributes to the discussion.
Ask the participant(s) what interested them about the topic.
Be transparent and honest about your own experience related to the topic: You don't need to be an expert to lead a Braindate.
Don't forget that everyone has something interesting they can add to the conversation: Adopt a beginner's mindset.
Don't forget to share contact information. Many great relationships started with a simple conversation.
Disclaimer: Braindate is not to be used as a platform to enable your company's sales.