Accreditation 
The ECTRIMS 2022 – 38th Congress of the European Committee for Treatment and Research of Multiple Sclerosis, Amsterdam, Netherlands, 26/10/2022-28/10/2022 has been accredited by the European Accreditation Council for Continuing Medical Education (EACCME®) with 18 European CME credits (ECMEC®s). Each medical specialist should claim only those hours of credit that he/she
actually spent in the educational activity.
Through an agreement between the Union Européenne des Médecins Spécialistes and the American Medical Association, physicians may convert EACCME® credits to an equivalent number of AMA PRA Category 1 CreditsTM. Information on the process to convert EACCME® credit to AMA credit can be found at www.ama-assn.org/education/earn-credit-participation-international-activities.
Live educational activities, occurring outside of Canada, recognised by the UEMS-EACCME® for ECMEC®s are deemed to be Accredited Group Learning Activities (Section 1) as defined by the Maintenance of Certification Program of the Royal College of Physicians and Surgeons of Canada.
ATM
An ATM can be found within the entrance area of the congress centre.
Badges
Access to the congress is only possible with your personal name badge. Please always wear your badge!  A handling fee of €50 will be charged to print a new name badge.
Certificates 
The certificate indicating CME credits will be available for download within the congress platform as of Saturday, 29 October, 12.00 CEST. A short evaluation needs to be completed beforehand.
You will also be able to download certificates confirming you oral presentation or poster. Please visit "My Congress" on the digital congress platform.
Congress App 
Download the ECTRIMS 2022 congress app in the App Store or on Google Play and make the most of your onsite experience.  Use the app to browse and search the full scientific programme, to create your personal schedule, to view ePosters or to navigate the congress venue with the available venue overview. You will also be able to use the app to ask questions during the sessions.
The ECTRIMS 2022 app is supported by Roche
Children ECTRIMS 2022
Children up to the age of 1 year are allowed at the congress, considering that one parent watches the child and the child does not disturb the congress.
Cloakroom 
For security reasons, please be informed that suitcases, larger bags and backpacks are not allowed within the congress area and have to be stored at the cloakroom. The cloakroom is located in the entrance area and is free of charge for delegates and exhibitors. We recommend leaving larger bags, backpacks and suitcases at the hotel in order to prevent long queues. We recommend to only take your handbag to the congress.
Congress Venue
RAI Amsterdam Convention Centre
Europaplein 24
1078 GZ Amsterdam
www.rai.nl
Click here to get directions how to best arrive to the congress venue.
Currency 
All official prices are indicated in Euro (€). The official currency in The Netherlands is Euro (EUR).
All major credit cards are accepted in most hotels, restaurants and shops.
ECTRIMS Braindate
Schedule all your conversations and networking opportunities with colleagues attending ECTRIMS 2022 using Braindate, a new feature at this year's congress. Book your Braindate at the Braindate Concierge at the ECTRIMS NeuroNetwork, located next to Lecture Hall 12. Or jump straight into the Braindate application here.
ECTRIMS NeuroNetwork 
The ECTRIMS NeuroNetwork is a new onsite networking space at ECTRIMS 2022 designed to facilitate connectivity and enable participants to discuss new research and insights presented during the congress. This is where ECTRIMS Braindates may be booked and where ePoster Tours will be held. The ECTRIMS NeuroNetwork is located next to Lecture Hall 12.
First Aid 
In case of any emergency, please get in touch with the nearest ECTRIMS staff member.
Industrial Exhitbion 
The industrial exhibition is located in immediate vicinity to congress activities such as lecture halls and catering areas. Companies from all over the world are given ample opportunity to display their latest products, services and technical innovations. The exhibition is open during the following hours:
Wednesday, 26 October 2022, 09:30 – 17:30
Thursday, 27 October 2022, 09:30 – 18:00
Friday, 28 October 2022, 09:30 – 17:00
The ECTRIMS 2022 Industrial Exhibition is exclusively open to health care professionals only. Access for non-health care professionals is not allowed.
Insurance
The congress organisers cannot accept liability for personal injuries sustained, or for loss or damage of property belonging to conference participants, either during, or as a result of the meeting. Please check the validity of your own insurance.
Language 
The congress language is English. Simultaneous translation will not be provided.
Opening Hours 
| | Wednesday, 26 October | Thursday, 27 October | Friday, 28 October |
| --- | --- | --- | --- |
| Registration Area and Helpdesk | 08:00 – 18:00 | 08:00 – 18:30 | 08:00 – 17:30 |
| Industrial Exhibition | 09:30 – 17:30 | 09:30 – 18:00 | 09:30 – 17:00 |
| Speakers' Service Centre | 08:00 – 18:15 | 08:00 – 18:45 | 08:00 – 17:30 |
| Poster Desk | 09:30 – 18:30 | 09:30 – 19:00 | |
| Press Centre | 08:00 – 18:30 | 08:00 – 19:00 | 08:00 – 18:00 |
| Cloakroom | 08:00 – 20:00 | 08:00 – 20:00 | 08:00 – 20:00 |
| Ad-hoc Meeting Room | 09:00 – 18:00 | 09:00 – 18:00 |  9:00 – 15:30 |
Photography / Electronic Recordings 
Taking photographs and electronic recordings of the slides or a presentation with a camera or mobile device is strictly prohibited in all lecture halls during all sessions.
Poster Sessions at Paper Poster Area 
Poster Session 1 – Wednesday, 26 October 2022, 16:30 – 18:30 CEST
P001 – P400
P1180 – P1195
Poster Mounting Time: Wednesday, 26 October 2022, 09:30 – 12:00
Poster Removal Time: Wednesday, 26 October 2022, 18:30 – 19:00
Poster Session 2 – Thursday, 27 October 2022,  17:00 – 19:00 CEST
P401 – P799
P1196 – P1211
Poster Mounting Time: Thursday, 27 October 2022, 09:30 – 12:00
Poster Removal Time: Thursday, 27 October 2022, 19:00 – 19:30
ePosters 
All accepted posters are available for viewing on ePoster Screens onsite in the ePoster Area and on the digital congress platform.
Please note that abstracts accepted as "ePosters only" will not be presented at a specific session. Poster numbers starting with EP have been accepted as ePoster only.
Press 
Accredited journalists are welcome to cover ECTRIMS 2022. Upon presentation of your press identification, registration will be free of charge. A Press Centre is at your disposal located in the entrance area and is signposted accordingly.
Q&A
During sessions, delegates may ask questions using either the microphones in the lecture halls or the congress app.
To ask a question on the congress app, click on "Session Q&A" and select the respective lecture room. You can also scan this QR code to directly access the Q&A function.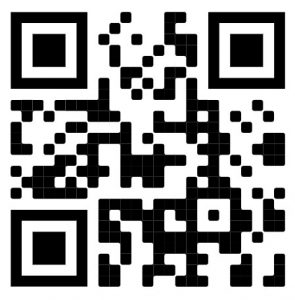 Responsibilty 
The participant acknowledges that he/she has no right to lodge damage claims against the organisers should the holding of the congress be hinderedor prevented by unexpected political or economic events or generally by force majeure, or should the non-appearance of speakers or other reasons necessitate programme changes. With his/her registration, the participant accepts this proviso.
Room for Ad-hoc Meetings 
A small room for ad-hoc meetings for up to 10 participants is available during ECTRIMS and can be requested for up to 1 hour. This meeting room is
located next to the Lecture Hall G102 and a hostess is available in front of the room to make reservations on a first come first serve basis
Room of Silence / Prayer Room
A room of silence is available to the participants throughout the whole congress. It is located in the entrance area and is signposted accordingly.
Scanning of your badge 
Participants are not obliged to allow exhibitors to scan their badge in the exhibition area or when entering an industry symposia. Participants must show their badge as proof of access rights, but do not need to allow a company to scan it. With allowing a company to scan, you acknowledge that your registration details will be forwarded to the exhibitor.
Situation at Schiphol Airport

Please note that Schiphol Airport is busy due to shortage of security personnel. Please prepare for your trip and allow enough time at the airport. Click here for current messages and information about expected crowds at the airport. Check the status at Schiphol especially on your departure day.
Wifi
Wireless internet is available throughout the conference centre free of charge.
Network Name: ECTRIMS 2022
Password: BMS@ECTRIMs2022
Wireless internet is supported by Bristol Myers Squibb